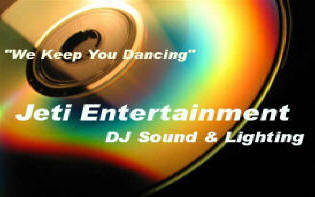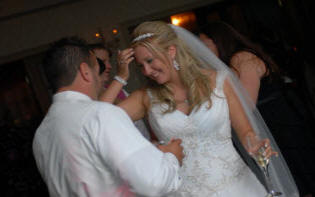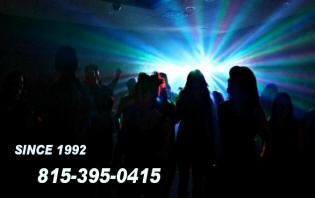 JETI ENTERTAINMENT MOBILE DISC JOCKEYS
"Northern Illinois Wedding Specialists"
Welcome to our website, Jeti Entertainment is the Rockford, Northern Illinois areas leading 5-Star rated Professional DJ Sound & Lighting Service specializing in Wedding Receptions, Ceremonies, Corporate Events, Anniversaries and Class Reunions, now celebrating our 22th. year. Our office is located in Rockford Illinois and we have now expanded our service coverage area to a 75 mile radius of Rockford covering most of Northern Illinois and the Northwest Chicagoland suburbs. We are a full time Entertainment company that offers a complete line of DJ Sound & Lighting services to accommodate any size venue with Professional Entertainment and Specialty Lighting, Elegant LED Up-Lighting, Name in Lights Monogram and Pinspot lighting and effects for your event space
Specializing in Weddings, Corporate Events, Class Reunions & Anniversaries

DJs Serving The Greater Rockford Illinois Area, Northern Illinois & Chicagoland
All of our Sound and Lighting equipment is company owned and we are fully insured for $1,000,000 We are also a proud standing member of the A.P.E. (Association of Professional Entertainers) and will guarantee our services in writing for you. Our extensive experience, cutting edge equipment, award winning 5-Star service rating, detailed event preparation and online event planning has made Jeti Entertainment a top choice for Wedding Entertainment by Brides & Grooms in Northern Illinois for over 20 years.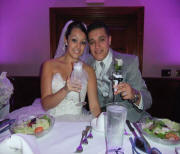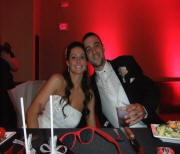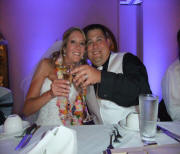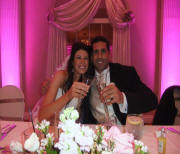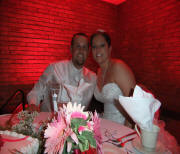 Please enjoy our website and utilize it's valuable resources. Be sure to click on the links at the top of this page to view our latest Music Lists, Online Event Planners, Photo's and much more. All photo's published on this website are from actual events we have provided our DJ and Up-lighting services. Please click the Weddings to view our Wedding page where you can view our wedding video and read our 5 Star reviews and detailed information about our wedding services. For Package & Pricing information click the Packages link.
Schedule a free no obligation wedding consultation today and find out why so may Brides & Grooms are choosing Jeti Entertainment. Please give us a call with any questions or to set up your free consultation and see how we can help make your wedding day vision come true. Please visit and like our facebook page by clicking the link below we are available 7 days a week to take your calls.